If you are involved in the Real estate or simply curious about the future of real estate in Nigeria, there is one place where you can meet the right people, find out information, hear new ideas and learn the strategies to help you make that next decision.
Real estate unite is a gathering of great minds seasoned in their fields, coming together to educate, redefine and promote the Sub-Sahara African Real Estate industry exposing its huge potentials for inclusive growth. Also to provide an innovative and creative platform that serves the real estate industry, contributing to their development and add investible values to their businesses. All this is made possible by the strategically selected themes of each year.
Real Estate Unite topics over the years
2012 – Jumpstarting Nigerian real estate for Global Investment
In the maiden edition of REU that held on the 13th and 14th of September 2012, the topic (Jumpstarting Nigerian real estate for Global Investment)  was rightly chosen in line with the REU mission and vision to set a proper foundation for the future of REU. The aim was to come up with strategies to reposition real estate in Nigeria.
"Welcome development and I understand this is a beginning and a good one at that. Looking forward to future editions".

Niyi Adeleye | Stanbic IBTC plc
According to Ruth Obih (Managing Director/CEO of 3 Invest Ltd.), real estate is serious business, which has to be made interesting to attract the right people. She further stressed that the huge statistics about real estate on the pages of papers are boring and tiring. Hence, there must be a  way to trend the sector for global investment.
2013 – Advancing Nigeria's real estate for economic growth
In 2013, REU was focused on advancing Nigeria's real estate for economic growth. Discussions included:
Real estate investment fund
How does Real estate Investment Trust work?
Is real estate investment trust an instrumental mechanism to real estate development in Nigeria.
Pension fund an effective alternative finance
An ARM pension case study.
Pension funds an emerging tool for housing development finance in Nigeria.
Foreign direct investment trends, risks, and opportunities
Shelter, the most basic needs in our lives
Housing as a social security
Are there policies that address housing finance issues?
Can a policy be enacted?
Urbanization: Does Nigeria recognize standard urban development practice for cities considering the urbanization growth.

 2014 –  Igniting the F.I.R.E where lies the key?
After two successful editions, a further study indicated that uniting a regional market is vital for sustainable growth. The African Women in Real Estate (AWIRE) was birthed.
The aim, therefore, was to deepen relationships across Africa to foster inclusive growth by addressing the market vulnerabilities on tight Financing, Infrastructure Investing, Red-tapism and Education (F.I.R.E), hence the theme Igniting the F.I.R.E where lies the key?
The conference highlights were:
Tight financing
Inadequate infrastructure
Education mishap
Investor Apathy
Red-Tapism
Global trends; local practices
"Real estate unite has brought together highly regarded and diverse panelist in the real estate industry, thus providing a stimulating forum for discourse on factors/challenges militating against the growth of the sector in Nigeria".
-Funke Okubadejo | Actis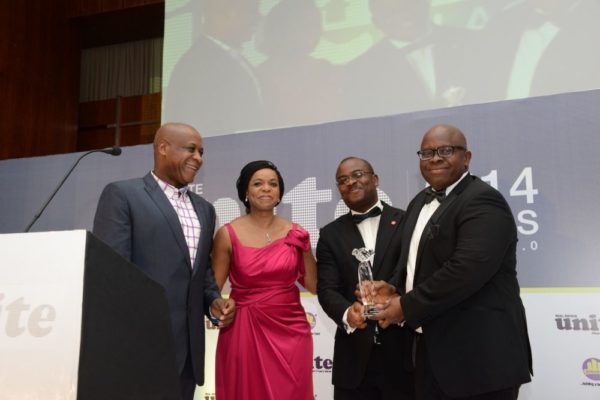 "A very impressive gathering of great minds. The AWIRE Forum is very innovative and I see it as a forum to empower women in real estate in Nigeria.
Real Estate Unite has come to stay and I offer my continued support. Truly empowered and inspired to ignite"
Obiajulu | BROLL
2015 – Connecting the D.O.T.S
With the change in demographics and increasing urbanization, more opportunities surfaced for investors, the focus was, therefore, making the connections.
D.O.T.S refers to Drivers, Opportunities, Transformation and Sustainability. The highlights of the conference were:
Demographics and capital
Housing deficit, infrastructure shortages and framework
Urbanization, industrialization, and technology
Strategy, systems, and trends
 2016 – Filling the G.A.P.S
Over the years, the Real Estate Unite summit has recorded over 5000 footfalls, 1000 conference delegates, 2000 guests at the awards dinner, 120 exhibitors, 70 speakers and 40 sponsors.
This year's event takes place on the 6th and 7th of October with the theme "Filling the G.A.P.S" (Government, Access, Private sector and Strategy)
"Real Estate Unite is an event that has filled a huge gap in Nigeria. The event brings like minds together and you get to learn and give as well"
–Uzo Oshogwe, Afriland properties.
The event theme aims to explore how Government, Access, and the Private sector could each play vital roles in further boosting Africa's real estate sector and widening participation. In addition, the collaborative strategy sessions will help tackle current issues ranging from climate change to affordable housing, to consumers' needs in the office and retail sectors.
For more information about Real Estate Unite, contact Kelechi Ibe at info@realestateunite.com
http://3invest.org/wp-content/uploads/2016/04/DSC_0735.jpg
465
700
3Investmedia
http://3invest.org/wp-content/uploads/2016/04/3invest-logo.png
3Investmedia
2016-08-05 10:12:27
2016-08-09 16:25:07
A trip down memory lane - Ideas meet strategies at Real Estate Unite 2016